Silk-screen printing
Silk-screen printing consists of the application of UV inks through screen printing frames, that are produced internally to guarantee you the highest quality and speed in service.
We can produce a high-definition silk-screen print with high precision in stroke, shades and screening.
The silk-screen printing is applicable to all our articles, with both large and small formats, on flat, elliptical or round surfaces up to 4 colours.

Hot Stamping

The hot stamping technique allows us to enrich the decoration of your packaging with elements in gold leaf, silver or copper. The advanced technology that we use can offer decorations on any product, integrating and completing itself with silk-screen printing. Hot stamping is available on all our jars, bottles and closures in the catalogue.
Metallisation and painting
It is possible to apply a metallic coating of gold or silver to your packaging by using cycles of metallisation in high vacuum, or apply a soft-touch paint. This decoration is particularly suitable for closures to emphasise the graphics on the main body. It is currently available on a selection of our products, that we are expanding continuously.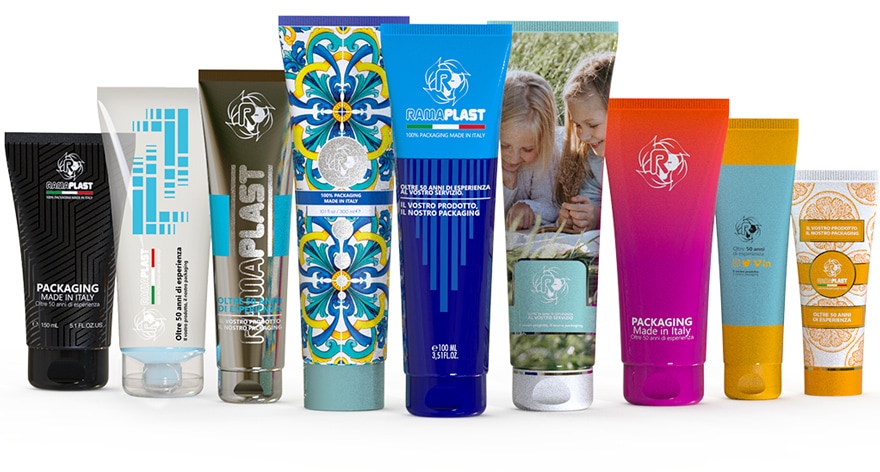 Flexography + Silk-screen printing + Hot stamping
We are able to decorate plastic tubes by combining in one single step This allows the use of traditional and consolidated processes to realised innovative and modern graphics and be able to push creativity to the limit.
All decoration processes are carried out in-line, guaranteeing unparalleled quality, precision and repeatability.